David Mamet Info Page
David Mamet (1947-Present), Author, Playwright, and Director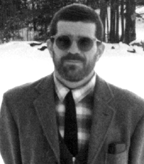 A noted American playwright, David Alan Mamet, was born in Chicago on November 30, 1947. He studied at Goddard College in Vermont and at the Neighborhood Playhouse School of Theater in New York. He has taught at Goddard College, the Yale Drama School, and New York University, and regularly lectures to classes at the Atlantic Theater Company, of which he is a founding member.

David Mamet is a leading American playwright whose spare, gritty work reflects the rhythms of Harold Pinter and the tough attitudes of his native Chicago. Noted for his strong male characters and their macho posturings, Mamet's knack for creating low-key yet highly charged verbal confrontations in a male-dominated world has consistently made his work fodder for discussion and deconstruction.

He began his career as an actor and director before achieving acclaim in 1976 for three Off-Off Broadway plays, The Duck Variations, Sexual Perversity in Chicago, and American Buffalo. The Woods (1977) and Edmond (1982) were followed by two enormously successful plays, the Pulitzer Prize-winning Glengarry Glen Ross (1984), a scathing representation of American business practices, and Speed-the-Plow (1988), which savagely reveals the amoral underside of the film industry. Describing the afterlife of one of its Hollywood antiheroes, Bobby Gould in Hell (1989) is also an exploration of Mamet's considerable misogyny.

Beginning in the late 1970s, Mamet enjoyed a number of stage successes (see above) before his first produced screenplay The Postman Always Rings Twice (1981), adapted from the novel by James M. Cain and directed by Bob Rafelson, marked an impressive screen debut. He then turned out three meticulously crafted scripts: The Verdict (1982) with Paul Newman as a Boston lawyer on the skids; the less successful screen adaptation of his play Sexual Perversity in Chicago expanded and retitled About Last Night... (1986), revolving around a couple fleeing the singles scene; and The Untouchables (1987), a blockbuster update of the well-remembered TV series. Mamet made his directorial debut with House of Games (1987), which he also wrote, a slick, engrossing study of confidence trickery starring his then-wife Lindsay Crouse and Joe Mantegna.

The prolific Mamet also wrote and directed the whimsical comedy Things Change (1988) and the uneven but occasionally gripping police thriller Homicide (1991), both also starring Mantegna. His Pulitzer Prize-winning play Glengarry Glen Ross (1992), recreating the atmosphere of a gritty Chicago real estate office, was adapted into an acclaimed 1992 film directed by James Foley and starring Al Pacino and Jack Lemmon. Louis Malle used Mamet's translation of Chekhov's Uncle Vanya in Vanya on 42nd Street (1994), which reunited the My Dinner With Andre team, Andre Gregory and Wallace Shawn, as members of a company rehearsing the play-within-the-movie. Mamet wrote and directed the screen version of Oleanna (1994), based on his stage play of the same title, a two-character confrontation involving charges of sexual harassment between a male professor and one of his female students.

The autobiographical The Cabin: Reminiscence and Diversions was published in 1992.

Bibliography (Paragraphs 1, 3, and 6): Carroll, D., David Mamet (1987).
Copyright © 1995 Grolier Electronic Publishing Incorporated; 1995 Vintage Books
Picture and Bibliography (Paragraphs 2, 4, and 5):
Copyright © 1996 Microsoft Corporation and/or its suppliers. All rights reserved.
---
David Mamet News
See what Mamet stuff is on TV this month! Click here!
February 26, 2004: Quick update for you all: First off, don't forget to check out my review of the Glengarry Glen Ross Special Edition DVD. Then, when you're done with that tasty treat, check out David Mamet's latest film effort as writer/director in Spartan, opening March 12th 2004 at a theater near you! Also check out Warner Bros. Pictures Promotional Site for the film by clicking here.
September 3, 1999: Hello! Long time no type! It's been just over seven months since my last update, and let me tell you, the Mamet world has just been jumping with news over that time! First off let me apologize for taking so darned long to update the page, I hope you all forgive me.
With that being said, before I fill you in on all the updates, I am sad to report that this will most likely be my final news update on the DMIP. My career is finally getting off the ground, and I'm in the middle of planning a cross-country move from New York City to Los Angeles, to be completed at the end of this month. I haven't had the time to update the page over the last seven months, and the future looks to be even busier for me as I try to make it as a film editor out on the left coast.
Rest assured, however, that this site is not going anywhere, and as long as MindSpring continues to be my ISP, this site will be here for all your reference needs. Should the time come that I change ISP's, as I did I while back, I will include at this address a link to the new site for a period of one month to allow everyone a chance to update their bookmarks. All the links at the popular search engines will be updated as well, so no one should be left out in the cold, should the address of the DMIP change in the future. Believe me, I hate it just as much as you do when fan sites just up and disappear into the vast vacuum of cyberspace.
The e-mail address for the page will also continue to remain active, and I am still here to try and help out with individual problems, questions, and corrections as time permits. And for those I never got a chance to e-mail back for wherever reason, I'm profoundly sorry. Please don't hold it against me.
I appreciate all your patronage over the years, from the time that I started this page as part of a college project to its present incarnation as a one-stop-shop for all your Mamet reference needs. Now that all that's out of the way, let's see if I can't get you all up-to-date on the haps in the world of David Mamet.
September 3, 1999 (continued): After receiving conflicting reports, it does appear (at least according to the Massachusetts Film Office) that State and Main (NOT State and Maine), written and to be directed by Mamet, will begin filming in Massachusetts at the end on September. (Thanks, Ed O'Keefe!)
A potential juicy bit of news: Mamet is rumored to be in talks to script the adaptation to Thomas Harris' The Silence of the Lambs, entitled Hannibal. I'm in the middle of reading the novel right now, and if he does get a chance to sink his teeth into it, it could rival Silence's screen adaptation, which right now has to be considered one of the five best movies of the 1990's. (Thanks, Dude!)
Felicity Huffman, wife of William H. Macy, and star of the very Mamet-esque ABC TV show Sports Night recently starred in Boston Marriage, Mamet's latest stage play. The play premiered during in June up in Cambridge, Massachusetts at Harvard's Hasty Pudding Theater. All I know is that it's about two turn-of-the-century lesbians who want to get married in Boston. Perhaps it is bound for Broadway, as The Old Neighborhood also got its start up in Cambridge a couple of years ago. (Thanks, rdiablo and others!)
While it looks like State and Main is Mamet's next directorial venture, a film adaptation of his 1981 play, Lakeboat also seems to be in pre-production, to be directed by Mamet friend and colleague, Joe Mantegna. The film will star and be produced by brother Tony Mamet.
Three of Mamet's new books have finally been released. Jafsie and John Henry: Essays, Bar Mitzvah, and The Chinaman: Poems are all currently available at Amazon.com. On Acting is still listed as being due in December 1999.
Added three new articles from London's Daily Telegraph to the Mamet Museum.
Added a couple of new titles and made some corrections to the Bibliography page.
Updated the Miscellaneous Info section.
Updated all the prices and links in the Mamet Shopping Mall. Also added search boxes for both
Reel.com and Amazon.com to guarantee up-to-date items.
Moved all the old news to the (surprise!) Old News page.
Thanks again for visiting. Just the fact that you're reading this, wherever you may be, is what makes all this hard work (and it is hard - and tedious, too!) worth it. May all of you take good care and be well.
---
Thanks to the kind efforts of Phil Taussky (among others), the bibliography list got so darn long, I had to move it to its own separate page!
---
In association with the great folks at Amazon.com, the "Earth's Biggest Bookstore" and
Reel.com, the "Planet's Biggest Movie Store," you can now buy all your favorite David Mamet-related books and movies right here at the DMIP!
---
Articles, interviews, clips and any other Mamet-related stuff, some of it submitted by loyal David Mamet Info Page readers themselves!
---
Pictures, reviews and links to the sound clips in the Mamet Museum for all of Mamet's major film works mark this latest addition to the DMIP!
---
Covers from some of his most famous works are gathered here on one page!
---
Get an always up-to-date listing of all of David Mamet's film works, including screenplays, directing efforts, and acting appearances!
---
A Couple of My Favorite Mamet Quotes
From the film Glengarry Glen Ross, 1992
Part of this quote is also available as a .wav sound file (254K)

BLAKE: Lemme have your attention for a moment. 'Cause you're talking about, what, you're talking about, bitching about that sale you shot, some son of a bitch don't want to buy land... somebody don't want what you're selling, some broad you're trying to screw, so on, let's talk about something important. (to Williamson) Are they all here?
WILLIAMSON: All but one.
BLAKE (checks watch): Well, I'm going anyway. Let's talk about something important. Put that coffee down. Coffee's for closer's only, you think I'm fuckin' with you, I am not fuckin' with you: I'm here from downtown, I'm here from Mitch and Murray... and I'm here on a mission of mercy... (he checks notes) Your name's Levene? You call yourself a salesman, you son of a bitch...
MOSS: I don't have to listen to this shit.
BLAKE: You certainly don't, pal, 'cause the good news is: you're fired. (pause) The bad news is you got, all you've got just one week to regain your jobs. Starting with tonight. Starting with tonight's sit... Oh: have a got your attention now? Good. 'Cause we're having a little contest. We're going to have a little sales conference. And the fellow with the highest sales by the thirtieth wins first place. First prize is a Cadillac Eldorado. You wanna' see second prize? Second prize is a set of steak knives. Third prize is you're fired. You get the picture, are you laughing now? You got people coming in that door, twenty-five minutes, Mitch and Murray paid good money, get their names, to sell them. You can't close the leads you're given, you can't close shit, you are shit... hit the bricks, pal, and beat it, 'cause you are going out.
LEVENE: The leads are weak.
BLAKE: The leads are weak! The fuckin' leads are weak? You're weak. I been in the business thirty years.
MOSS: What's your name?
BLAKE: Fuck you, that's my name. You know why, Mister? 'Cause you drove a Honda to get here tonight, I drove a sixty-thousand dollar B.M.W. That's my name, and your name is you're wanting, and you can't play in the man's game, you can't close them, then go home and tell your wife your troubles. Because One Thing Counts In This Life: Get Them To Sign On The Line Which Is Dotted. You hear me, you faggots...? I know your war stories. I know the bullshit excuses that are your lives. What do you know...? What do you know...

First Draft - No Date
Film: Copyright © 1992 Zupnik Cinema Group II/GGR, Inc. All rights reserved.
---
From the filmThe Untouchables, 1987

NESS: Well, George, I want you to write down the names of your superiors. I want you to write down the name of your contacts.
GEORGE: Why don't you kiss my ass...
NESS: Perhaps you didn't hear me... You've fired on Federal Officers, you've broken the Law, and you can be tough in Leavenworth for thirty years.
MALONE: You're going in for all day, baby...
NESS: ... is that what you want...
WALLACE: ... Elliot... Get over here.
NESS: What?
WALLACE: Take a look at this.
NESS: What is this? (beat) You got a lot of money changing hands in this book. What is this 'ward', 'police precincts'... you've got a heading 'Circuit Court'... What is this...?
GEORGE (panicking): It's nothing, and there's nothing you can make out of it.
NESS (of the ledger): Is this what I think it is?
WALLACE: If you can establish that the coded entries indicate payment to Capone, then we can put Capone away.
NESS (to George): I want you to tell us which of these entries is Al Capone...
MALONE: You're going to do the whole thing in the joint, babe, lest you help us here.
NESS: I want you to translate this ledger for us.
GEORGE: In hell...
MALONE (furious): 'In hell'? This ain't the First Ward, George. You're muckin' with the 'G,' here, pal, and you're going to hang higher'n Hayman unless you cooperate.
WALLACE: This man can finger Al Capone. (beat) This man can put Al Capone behind bars.
GEORGE: Why don't you guys just fuck off.
MALONE (slaps him): Mister hardcase... We have to have that information. (beat) I am not fuckin' with you. Mr. Ness...?
NESS: ... not that way.
MALONE: The hell you say. You going to talk? (beat) You're gonna talk, pal. You're gonna beg to talk. Somebody's going to talk. Hey you, on your feet. We need you to translate this book. And you are going to. I won't ask you again. What's the matter. Can't you talk with a gun in your mouth? One... two.. three... (He fires, as he heaves the body toward the open door.)
GEORGE:Yes. Yes. Yes... I'll... yesyesyes I'm going to...
MALONE (to Wallace): ... Don't let him clean himself until after he talks. Ask him what you want to know.
WALLACE (to George as he passes him the notebook): We need the name of the bookkeeper. We need a translation of the code. I want to know...
MOUNTIE: I do not approve of your methods.
NESS: Yes, well, you're not from Chicago.

Revised Draft - 8/8, 8/12, and 9/2/86
Film: Copyright © 1987 by Paramount Pictures Corporation. All rights reserved.
---
Miscellaneous Mamet Info
He has directed six of his screenplays, The Winslow Boy (1999), The Spanish Prisoner (1998), Oleanna (1994), Homicide (1991), Things Change (1988), and House of Games (1987). He will be directing his seventh in September 1999, with State and Main.
He has acted in The Water Engine (1992), and Black Widow (1986). He also appeared in the documentary Sanford Meisner: The American Theatre's Best Kept Secret (1984).
He has produced Hoffa (Associate Producer, 1992), and Lip Service (1988).
He used to be married to Lindsay Crouse, who starred in House of Games. They have two daughters, Willa and Zosia.
He is currently married to Rebecca Pidgeon, who has acted in his productions of The Water Engine, Homicide, and The Winslow Boy, as well as the original theater production of Oleanna. She also composed the music for the film version of Oleanna. She is a well-known singer/songwriter in the pop/folk music world, and that she has even co-written some songs with David Mamet. They have one daughter, Clara.
He has a sister, Lynn, who is also a screenwriter, and a brother Tony, who is a musician and actor.
---
Disclaimer & Feedback
Thank you very much for visiting the site, I truly appreciate your patronage. This is an unofficial fan site, and has no connection whatsoever to David Mamet. I have had no contact with Mamet, and I am currently unable to help those individuals looking to contact him. I also welcome any other comments and questions you may have regarding Mamet and his works. I will try to answer all of your questions to the best of my ability. Keep in mind that I am neither an academic nor a scholar, just a fan who loves to read and watch his work.
With all that having been said, if you have any other comments, questions or additional information to be posted, then contact me directly at dmip@comcast.net, and I will make sure that you get a response. (And hopefully not take too long in doing so!)
---
This page was created by Jason Charnick, B.A. in Psychology at Boston University, and independent film editor and sound recordist.
The kind folks at www.digits.com say that you're the
th visitor to the David Mamet Info Page.
Last Updated 9/3/99.
Thanks again for stopping by! Come again soon!